Discover the secrets of the white gold and the salt marshes of La Vie.
With your family, friends or in a group, explore this exceptional natural site made of clay and water which makes it one of the treasures of Saint Hilaire de Riez. Located on the right bank of the coastal river La Vie, the Hilairo salt marshes are now protected by the coastal law and classified Natura 2000. Neglected after the 1970s, these marshes were transformed for a few years into fish ponds and then rehabilitated.
Since 1995, the salt marshes of La Vie have resumed their activity and include two marshes: the marine of Recoin and the marsh of Etoile. In the Saline du Recoin, an exhibition allows you to discover the history of the salt marshes of La Vie.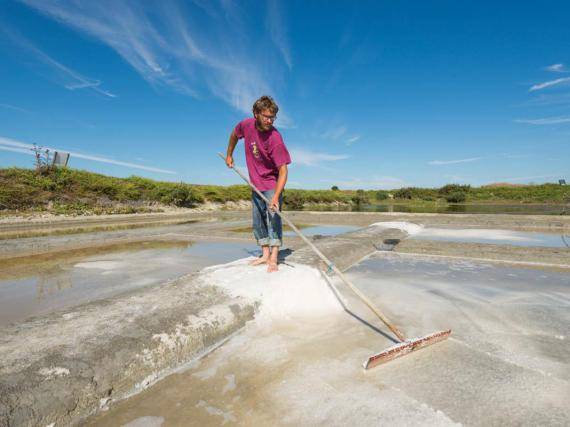 In the Marais de l'Etoile, an independent salt-maker opens his doors and invites you to discover the exploitation of the "salt of Life". This walk in the heart of the marshes allows you to understand the work of the salt worker and to admire the traditional gestures that he carries out daily.
This is one of the many facets of Saint-Hilaire-de-Riez, a land of traditions where gestures that have been passed down through the centuries are perpetuated and explained.